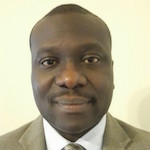 Nnamdi Ezimako has over 25 years business management experience with accomplishments in building and growing start-ups in the USA and globally. He holds a Master's degree in Architecture, has been a top licensed Insurance Producer and Broker for over 7 years, and continues to excel in the industries that we serve.
Nnamdi has an Insurance track record and portfolio that includes Individuals, Corporates and Diplomats. He is currently involved with US Government procurements and leads the Insurance Services Team of TQBM.
As Vice President of TQBM, Inc., Nnamdi oversees de novo initiatives, ensuring that we are always delivering cutting edge services to our numerous clients in the USA and around the world.
Nnamdi likes to play Chess and reach out to underserved communities.